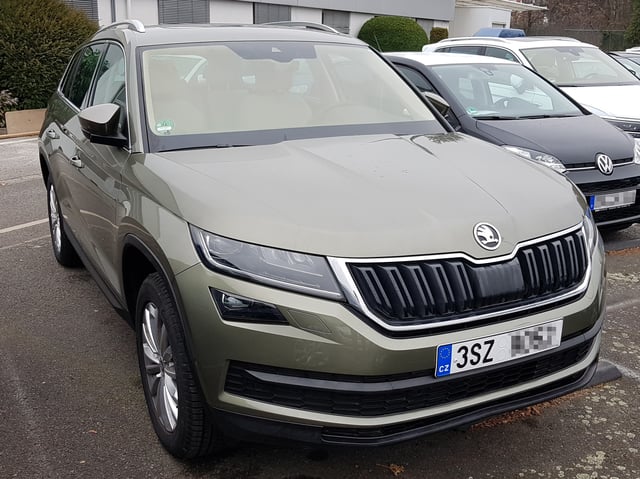 The Kodiaq is a pivotal car for Skoda, taking it confidentially into the burgeoning Australian 7-seater SUV market with the brand's trademark blend of qualities: discreet styling, generous specification and lots of metal for the money. The discounted VW, if you will.
The Skoda Kodiaq is the Czech brand's first seven-seat SUV has already arrived in Australia. Based on the same platform that underpins the VW Tiguan, the Kodiaq is a smartly, if predictably, styled five-or seven-seat SUV crossover. It's a big car – at 4697mm in length it's closer in size to the Volkswagen Touareg (4801mm) than it is to the 4486mm Volkswagen Tiguan.
There's nothing here that's going to make your jaw drop. Engines and gearboxes are shared elsewhere with the VW group, while the second row of seats slides back and forth, and the optional third row rise out of the boot floor. The 132kW 2.0 TSI petrol engine will be the only powerplant available from launch, with the 140kW 2.0 TDI diesel joining the range later. Skoda says it hopes to have the diesel in Australia within 12 months of the petrol version going on sale.
The edgy styling shares the design language of the Octavia and Skoda Superb. Skoda claim to have been inspired by the artisan cut glass for which the Czech Republic is famous.
There's not a great deal to be said about the Kodiaq. That's a good thing. It is good at doing exactly what it needs to do, and hence, it will probably sell well.
The steering is accurate, light and completely de-sensitised. In Sport mode it's accurate, slightly less light and remains de-sensitised, but also adopts a slightly rubbery feel.
Skoda is working on a 'coupe' version of the Kodiaq for the Chinese market that will feature a lower roofline, similar to the BMW X6 or the Mercedes GLE Coupe. The company says it might be sold elsewhere, too (possibly, the Australian market?)
This market segment, like most of the SUV world, is white hot at the moment. At $42,990 retail or $46290 drive-away, the Skoda Kodiaq is the cheapest European seven-seat SUV by the proverbial country mile. More importantly, it makes a stunningly stylish alternative to a Hyundai Santa Fe for those prepared to enter the world of European style, VW reliability and a price tag for the budget concious.
------
Allow 1800Approved to assist you in organising finance for your 2017 Skoda Kodiaq today.
1800Approved is a multi-award winning finance broker !
1800Approved services clients across Australia, working with over 40 independent lenders to find you the best deal possible for your individual and unique circumstances
We have helped tens of thousands own their dream car, boat, motorcycle, camper trailer, jetski or caravan and/or finance business equipment.
Let us help you finance your dream car today.
Call us on 1800 277 768.
Obligation-free.