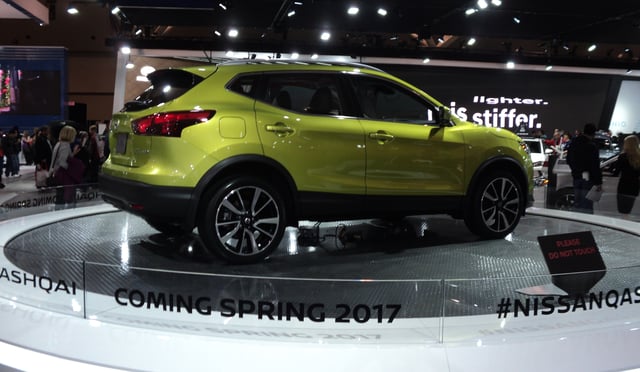 The Qashqai is the larger of two small SUVs Nissan sells (the other being the quirkily-styled Juke). It costs less than a slightly larger X-Trail but is better equipped and a far more stylish vehicle. The Qashqai offers a spacious, well-presented and smart-technology interior, clever crash-warning technology (which can accelerate, brake and steer the vehicle without driver intervention in certain situations) and a choice of petrol or diesel power. Digital radio is part of the package, along with satellite navigation and a seven-speaker Bose stereo can be optioned in certain international marketplaces (this may filter through to the Australian market).
The Qashqai was the fourth most popular small SUV in Australia in 2016, a strong-selling model only just outsold by a few hundred units behind the Honda HR-V and about 600 units short of the models fighting it out for top spot, the Mitsubishi ASX and the Mazda CX-3. However, this new Qashqai is a heavy hitter and with the stlye and technological advances. Nissan are getting serious about selling a lot more of these clever, fun vehicles.
As for the driving, the Qashqai doesn't lean or tip-over into bends at all It feels planted on the road and responsive. It's fun to drive and drives more like a good road car than a SUV. The Qashqai drives well, looks good and is extremely finished and well built. It should survive a tough family life whilst looking like a vehicle your mates or girlfriends will want ask you to take for a spin. The Nissan Qashqai is a head-turner among the others in the mini-SUV market. Our customers love this car and our finance experts love to help them finance it, because it is a beauty!
------
Organise finance for your new 2017 Nissan Qashqai today.
1800Approved is an award winning finance broker!
We have helped tens of thousands own their dream car, motorcycle, boat, jetski or caravan.
Let us help you find the best car finance rate in Australia today.
Call us today on 1800 277 768 or apply online for finance. No obligation.