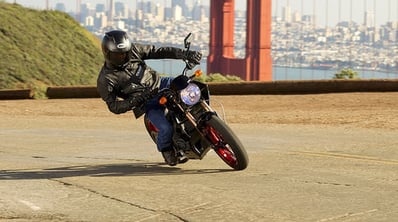 If you're on two wheels, becoming a better rider is (consciously or subconsciously) on your mind each and every day. We all strive to improve our skills in order to keep us safe and the other motorists around us. However, aside from riding skills, it's also important to adjust your attitude while riding on the city streets or on a long stretch of highway.
Motorcycle riders in fits of rage against car drivers are becoming commonplace. On Youtube, you can see lots of videos of Australian motorcycle riders engaging in verbal jousts against car drivers and some even smashing side mirrors of cars.
As Australian Motorcyclists, that's not something we should be proud of. Many motorcyce riders have not made the effort to adjust their attitude on the road. Yes, there are stupid drivers out there who have no regard for the safety of other motorists. However, to stoop down to their level is not great either. You may need to consider the possibility that the other driver innocently cut you off or simply did not see you.
Here are some tips to become a better motorcycle rider;
Keep Calm - Being calm and relaxed keeps you level-headed on the road. Things happen and it's easy to lose your cool. However, when you're mad and upset, you are bound to make mistakes that you may regret. Take a deep breath if you're about to lose your cool and just think of all the good things in your life.
Be Humble - No matter how skilled you become, always remember that public roads are never the right avenue to showcase your skills.
Stay Alert - Remember, you're riding on a 2 wheeled vehicle and any crash is going to be ugly. Always be aware of your surroundings, anticipate your next move and your fellow motorists next move. If a car up front has been swerving for the last hour, keep a safe distance to avoid a possible collision.
Be Patient - If traffic is bad and you're running late, let it be. If you're in a rush, you're bound to make bad decisions like running a red light, speeding and other potential traffic infringements. If you are patient, you're calm and if you're calm, you're in control.
Becoming a better rider is a lot more than just becoming good at riding. Those cornering skills and your other advanced riding techniques won't count for much if your attitude is not adjusted. The only way for people to notice how good you are at riding is by how you carry yourself and how you react under different traffic situations.
Further reading:
Safety Tips when Riding a Motorcycle
How to Choose the Right Motorcycle
---
1800Approved is an award winning finance broker who has helped hundreds of Australians drive away on their dream motorcycles. We help you compare motorcycle finance quotes and choose the best offer that suits your needs.