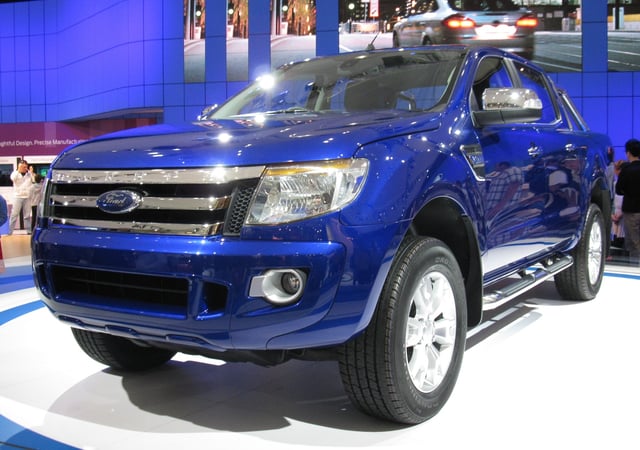 Ford or Toyota, Toyota or Ford? It's the perennial Aussie ute question. Toyota dominate 4WD sales in Australia, and the HiLux is their biggest seller of all. Not only is it tough enough to do the job, it is good-looking and holds its value well. It's not surprising, then, that there are still high excitement levels over the first new HiLux release in late 2015. Ford released their update of the Ranger in 2016, the leading model that makes up 40% of all Ford sales in Australia. It's also good-looking and hard to beat off-road. You want a new ute - which should you buy? Let's see what are the reviewers saying.
Toyota HiLux
Toyota offers three model grades – the WorkMate, SR and SR5. These come with pretty much all-new everything: body, chassis, engines, transmissions and suspension. That's in addition to toughened up off-road capabilities – its towing rating is up from 2500kg to 3500kg – and other advances.
First up, motoring.com.au reviewed the HiLux 2.8L TD manual dual-cab, 4x4 cab chassis with six-speed transmission and mid-range trim, priced at $44,990 (the most expensive is $57,990). The reviewer describes the performance as 'leisurely' with some engine noise, with no extra acceleration for those get-out-of-trouble moments. It struggles in sixth gear, is sluggish on corners and less stable when unloaded. Although it's user friendly and good at speed, it's not recommended to tow over 2500kg.
On the other hand, carsguide.com.au commended the 2.8L TD's larger cabin with additional storage, and pleasant, user-friendly interior. This reviewer commented on the smooth, quiet but gutsy performance, observing that it performs well in sixth gear, although it feels "a touch agricultural at times".
Drive.com.au reviewed the SR5 TD auto dual-cab, commenting on its improved steering, reduced roll and steadier drive, although this is less evident on rougher roads. Caradvice.com.au echoes all of the above, adding that the new engine is thirstier than they'd expected.
All in all, the HiLux is seen as an improvement on older models, representing value for money, yet without offering the most polished performance.
Ford Ranger
The new Ranger features some major changes in styling, particularly at the front. Beyond that this revamp is more adjustments, with an improved suspension, a new power-assisted steering system, and improved safety technologies such as radar cruise control and lane-keeping assistance.
Caradvice.com.au reviewed the XLT model, which comes in at $52,390 plus costs for the 4WD version. This has long been Ford's top-selling variant, being more luxurious than the sportier and more expensive Wildtrak. The review reports that steering is impressive and the handling on dirt roads excellent, with greater torque than before – although engine noise is high. The interior is improved, and the dash less confusing.
The criticisms are relatively minor, although these can make all the difference in customer choice – the steering wheel isn't adjustable, the navigation system became confused on the test run, and the level of finishing falls short of certain competitors. However, storage is good and there's plenty of room in the second row of seats. The reviewer sums up, "…it is the best of the breed and the best we've ever had in the realm of the dual cab ute."
Carsguide.com.au reviewed the XLS 2.2L auto, with the reviewer noting that this variant comes without a reversing camera, now included as standard with some other manufacturers. Good news is that this model displayed good load-carrying power with only a negligible difference to its bigger brother, the 3.2L variant. City and highway handling were excellent and this model proved itself a "five-seat genuine one tonner".
With so many variants on offer in both the HiLux and the Ranger, it's almost impossible to draw direct comparisons, either between these two manufacturers or against other vehicles such as the Volkswagen Amarok. If you're in the market for a new ute, follow our previous advice on defining your needs and budget, and then head out to see the best the dealers can offer.
Car Finance for Utes
Are you looking for finance to help you purchase a new ute? Or you'd like assistance to help source the best Hilux or Ranger on the Used Car market ?
1800Approved is an award winning finance broker - Australia's Broker of the Year for 2016 !
We have helped tens of thousands own their dream car, boat, holiday, jetski or caravan and/or finance business equipment. We can also assist in sourcing your new or used vehicle.
Let us help you finance your dream car or business truck today.
Call us on 1800 277 768. Obligation-free.