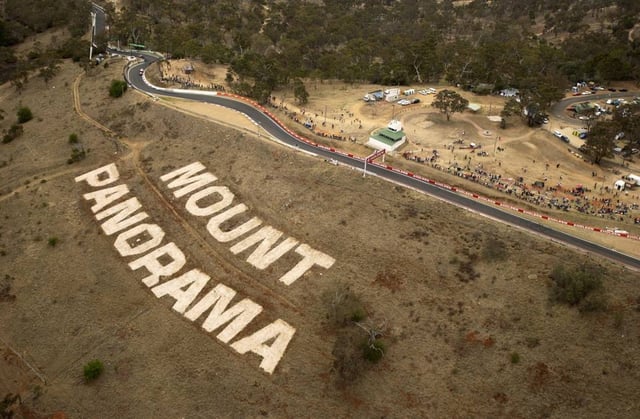 Two weeks out from the 'Great Race' at Mount Panorama, we invite you to join us on a lap of the most famous 6.213km stretch of road in Australia. Join us on a hot lap at Mount Panorama in an F1 car with former World F1 Champion, Jenson Button. Check out this video - frightening breakneck speed ! A full 18.2 seconds quicker than the fastest lap by a V8 touring car.
The track is an unusual design by modern standards, with a 174-metre (571 ft) vertical difference between its highest and lowest points, with steep gradients. From the start-finish line, the track can be viewed in three sections; the short pit straight and then a tight left turn into the long, steep Mountain straight; the tight, narrow section across the top of the mountain itself; and then the long, downhill section of Conrod Straight, with the very fast Chase and the turn back onto pit straight to complete the lap.
The racetrack has been used for a wide variety of racing categories, including everything from open-wheel racers to motorcycles. The factors that make the track so unusual, and tighter modern safety standards, make it unlikely that major race meetings in these categories will be held there again. As a racetrack, it has become the near-exclusive domain of closed-wheeled cars.
As a public road, on non-race days and when it is not closed off during the day as part of a racing event, Mount Panorama is open to the public. Cars can drive in both directions around the circuit for no charge. However, a strict speed limit of 60 km/h (37 mph) is enforced, and police regularly patrol the circuit. Its only just over 6km but it really is one of the World's Greatest Drives. If you're a red-bloodied Aussie petrol head surely its on or near the top of your bucket list !
The National Motor Racing Museum is located next to the Mount Panorama Circuit.
-------
Whether you'd like to arrange a Personal Loan for you dream driving holiday or to arrange a car loan for your dream vehicle to travel around Australia, 1800Approved is an award winning finance broker - we work for you, not your bank!
We have helped tens of thousands own their dream car, boat, holiday jetski or caravan and/or finance business equipment.
Let us help you finance your dream car or dream holiday today.
Call us at 1800 277 768. Obligation-free.