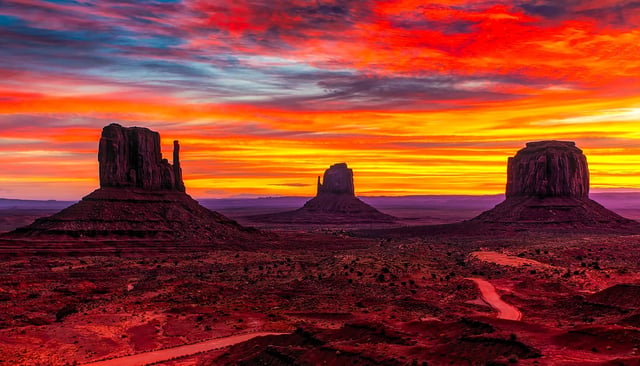 In the USA, near the Arizona-Utah border, Scenic Byway 163 travels northeast through Monument Valley.
The redrock desert, mesas and spires of scenic Monument Valley have been the settings for countless movies and advertisements. This is the land of the Navajo, where scenery and Native American culture have created a perfect setting for photography.

Monument Valley is perhaps the most famous example of the classic American West landscape.
While many incredible formations can be seen from the main roads, the best views can be had from the 27.2km loop road that runs through the valley. The road is open 6AM-8:30PM in the summer (May - Sep) and 8AM-4:30PM in the winter (Oct - Apr).
The loop is not paved and can be quite rough and dusty, however, most vehicles should be able to manage. You are not permitted to deviate from the loop drive without an American Indian guide present. The loop drive can be done in as little as 30-40 minutes, however, most visitors will take several hours to enjoy the scenery. There is no shortage of American Indian guides eager to take you (for a fee, of course!) to the restricted areas.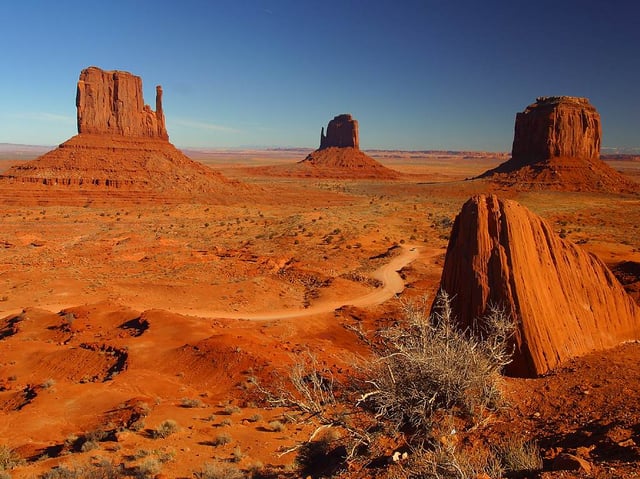 As the byway leaves the southern end of Monument Valley, Alhambra, a volcanic core, stands defiantly next to the road. North of Monument Valley lies the village of Mexican Hat, named for the inverted sombrero-shaped rock formation visible from the byway. Entering Mexican Hat, the byway crosses the San Juan River on an historic suspension bridge. North of Mexican Hat lies the junction with Utah Highway 276 which leads to the road to the Great Goosenecks.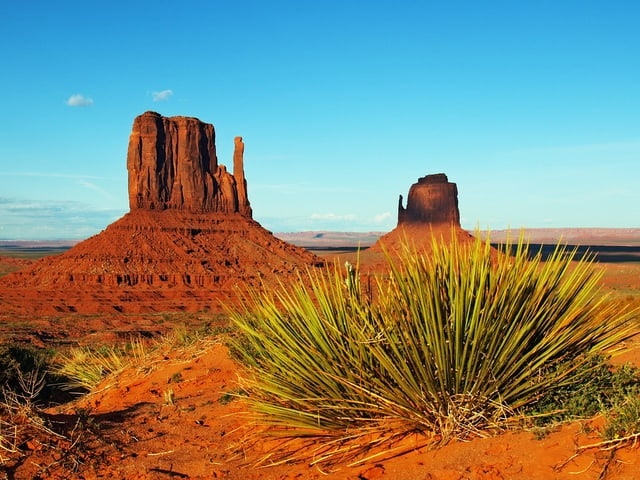 There is much to see along the Valley Drive, even if many of the views are of the same formations, just at different angles, as some of the narrower buttes look quite different from one side compared to the other. Whilst its only short, for absolute WOW factor alone, driving through Monument is one of the favourites on our series of World's Greatest Drives.
-----
Whether you'd like to arrange a Personal Loan for you dream driving holiday or to arrange a car loan for your dream vehicle to travel around Australia, 1800Approved is a multi-award winning finance broker.
We have helped tens of thousands own their dream car, boat, holiday jetski or caravan and/or finance business equipment.
Let us help you finance your dream car or dream holiday today.
Call us on 1800 277 768. Obligation-free.