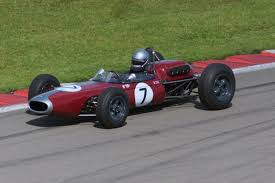 Legend of the Lakes HillClimb - Mount Gambier SA - This very picturesque hillclimb is set amongst the crater lakes of Mount Gambier and is a beautiful bit of road on which to compete or spectate.
Historic Sandown - 25 Years of Thunder - Sandown Raceway VIC - Two days of trade stands, autograph sessions with many 'greats' of the sport, and a display of hundreds of collectable cars. On-track action will feature Australia (v) New Zealand Formula 5000s, a round of the world Formula Junior championship, and a massive field of Group N touring cars. Other Historic categories and Regularity events round out the "Return of the Thunder" to Sandown celebrating 25 years of Historic racing at the popular Victorian circuit.
Cars and Coffee Brisbane - Enjoy some Exotic, Rare, Classic, Vintage, Historic or Race cars with some Fine Food and Coffee. First Saturday of the Month from 7:30 am at Turbo Drive.
Classic Yass - Motor show of Classic Cars, Motorcycles and Historic Race Cars plus all the thrills and spills of the popular Billy Cart Derby.
2016 Rover Owners Annual Display Day - The 2016 Rover Owners Club Annual Display Day at the St Ives Showground NSW. This year there will be an added attractions of Auto Brunch courtesy of the NSSCC who have a monthly roll up that most usually contains some wonderful, varied and unique classic cars.Classic Car and Boat Show Lara Lions Club - Lara VIC - Hosted by the Lions Club of Lara in the grounds of the historic Pirra Homestead - All vintage, classic cars and motorcycles are invited.
HTC All Torana Day Lockleys SA - In fact you don't even need to own a Torana to enjoy HTC All Torana Day. All you need is to have a passion for cars and be willing to join in and have a good time.
Auto Italia Adelaide SA - South Australia's largest gathering of Italian Cars, Bikes and Scooters all the while with Italian Food, Coffee, Gelati and wine.

Hunter Elvis Show, Newcastle NSW - Classic 1950s & 60s Americana including classic cars and bikes from the period.
Casey All Ford Car Show - Cranbourne VIC - Model T's, Mustangs & Mondeos.
Minis at the Mill - Birdwood SA - Minis at the Mill is an annual 'show and shine' event held at the National Motor Museum (better known as the Birdwood Mill).
Rotary Festival of Wheels - Glenorchy TAS - Classic and unique vehicle show to raise money for the Menzies Centre in its Men's Health Centre.
Global Village Motorfest & Fair - Muswellbrook NSW - Over 250 Motor Cars, Motorbikes, Trucks, Boats and Machinery from all over the world and from every age and every era.
Ulverstone Car Show, Ulverstone TAS - A great car & bike show open to all makes, models and era's run by the Forth Valley Lions Club.