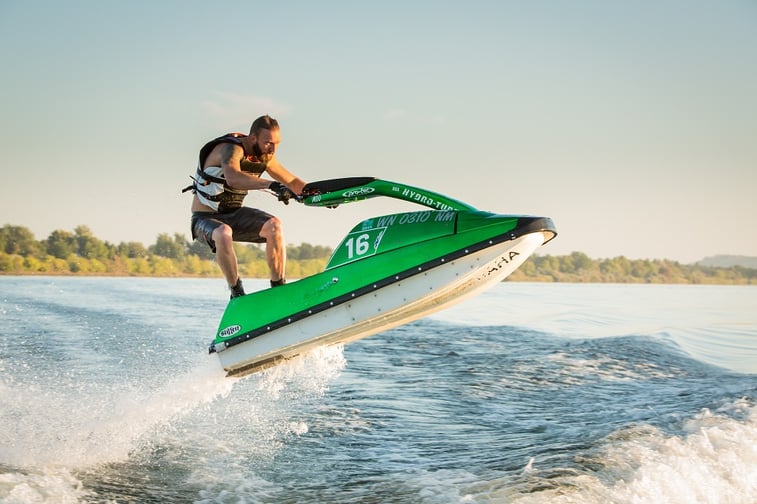 When purchasing a second-hand jet ski, there are many factors to consider.
Here the most important factors, including the types of jet ski available and the essential procedures to follow during the search;
Jet skis can be financed quickly and easily through 1800Approved. If you haven't find the craft you have been looking, we can also help source your personal water craft. 1800Approved is an award winning finance broker, Australia's Broker of the Year for 2016 ! We have helped tens of thousands own their dream jetski.
1) Types of Jet Ski
Become familiar with the different types of jet skis available:
Solo Stand-Up Craft
Solo Sport Craft
2-Seater Craft
3- or 4-Seater Craft
2) The Price
Like most motor vehicles, jet skis will depreciate very quickly. Buying a used jet ski may save you a lotof money in the long run.
The cost of a used jet ski will vary greatly depending upon its size, age, condition and engine specifications. Expect to pay anywhere between $2,000 and $20,000, depending upon your personal requirements.
3) The Specifications
There are many factors to consider, including:
· fuel consumption
· aspiration
· stroke-type
The more research the rider has completed regarding the components and different specifications of various jet skis, the more informed the purchasing decision will potentially be.
4) The Seller
Ensure a reliable and positive purchasing experience, by researching if the jet ski is bought from a trusted and reputable company or individual.
5) Jet Ski Inspection
Aim to inspect the jet ski personally before finalising a sale.
Ensure that the engine and mechanical parts are functioning correctly and that any damage or wear has been fully disclosed by the seller.
If unsure about the jet ski's condition, it may be helpful to take someone more experienced with you, or have a trained mechanic assess the vehicle.
Check with the seller to assess if the craft is still under warranty or not.
6) Test Drive
If it is at all possible, take the jet ski out for a test drive to check if it is the water craft for you.
7) Additional Costs
Make sure to be aware of the additional costs of running a jet ski, including:
· Fuel Efficiency
· Specific Jet Ski Insurance
· Maintenance and Servicing
· Safety Equipment and Safety Accessories
· Trailer
· Weather Cover
-----
Jet skis can be financed quickly and easily through 1800Approved. If you haven't found the craft you have been looking, we can also help source your personal water craft. 1800Approved is an award winning finance broker, Australia's Broker of the Year for 2016 ! We have helped tens of thousands own their dream jetski. Please call us today on 1800 277 768