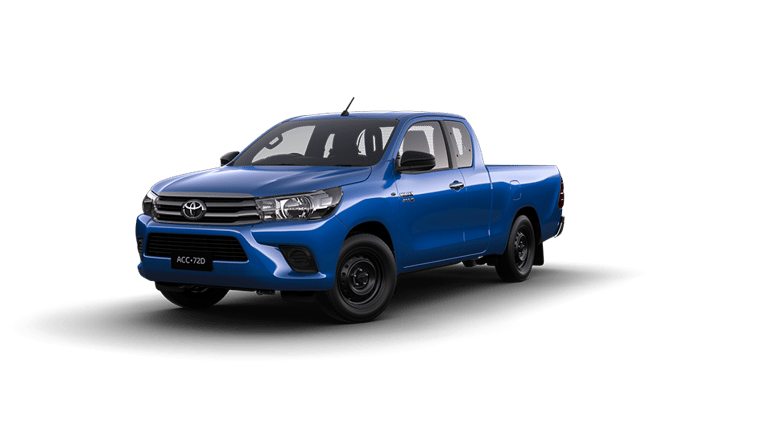 Toyota HiLux, Hi-Lux or Hilux: the spelling is slightly different for different regions. In Australia, it's the HiLux. You can't help but be impressed, The HiLux isn't only Australia's best-selling ute, it's one of the bestselling vehicles overall. It occupies a unique position, drawing huge popularity in both the commercial and private vehicle markets in Australia.
It's easy to see why. Since its first appearance in 1968, the HiLux has attracted a reputation for robust reliability and the ability to keep going year after year. So much so, you might wonder why Toyota decided to launch an 8th generation HiLux onto the Australian market, which is already full of previous HiLux models that refuse to give up.
Yet release it they have. In May 2015, the latest HiLux hit the Australian market ahead of its nearest rival, the Ford Ranger, which appeared in 2016. This reflects Toyota's market savviness in recognising that to maintain its leading position, this ute needs to be constantly upgraded with the latest technological refinements common to other vehicles in its class. So, what makes the newest HiLux even more superior to its predecessors?
Number of HiLux Variants
Recognising the vehicle's appeal across many areas of the market, Toyota has created variants to suit very market segment. It comes in Single-Cab, Extra-Cab, Double-Cab, Pick-Up and even as just a cab on a chassis, so you can fit the tray of your choice. There are 2.0, 2.4, 2.5, 2.7, 2.8, 3.0 and 4.0 litre engines (three petrol and five diesel) with 5 and 6-speed manual and automatic transmission.
Off-Road Capability
The 2WD drives the rear wheels, or comes with dual-range gearing and part-time 4WD. Additionally, the full 4WD versions offer standard ride height or Hi-Rider bodies with extra ground clearance and under body protection.
Advanced Technology
The 2016 Hilux features the first autonomous emergency braking (AEB) from Toyota. The earlier generation's 2.0, 2.7 and 4.0 L petrol engines are now updated with Dual VVT-i (Variable Valve Timing and Lift intelligent system) which increases power and torque by adjusting timing on the intake and exhaust camshafts. Inside, most variants come with Bluetooth phone connectivity, complete with voice recognition. Other features include cruise control, daytime running lights, a reversing camera, air conditioning, and tilt and reach adjustment for the steering wheel.
Sleek New Look
The new Toyota 'Keen Look' features slim projector headlights and LED Daytime Running Lights (DRL). This is continued with the interior AC vent and fascia design. However, some reviewers have criticised the working utility appearance of the HiLux SR, one of the range's most popular models.
Advanced Safety Features
The range features up to seven airbags, depending on the number of seats. Electronic Stability Control provides assistance if the vehicle skids, while Trailer Sway Control does exactly what you'd expect. Electronic Traction Control provides more grip on slippery surfaces.
Fuel Efficiency
With variants becoming ever bigger, can the HiLux provide fuel efficiency? The answer varies with the different models. The 2.4 L and 2.8 L diesels remain pretty much unchanged, with the popular 2.8 L consuming 7.3-9 L /100km. Autos are thirstier, and it's no surprise to learn that the 4.0 L petrol V6 is thirstiest of them all.
Prices
The new HiLux range starts at $20,990, increasing to $53,990 plus on-road costs for the HiLux SR5 four-door ute. It costs an extra $2000 for 6-speed auto.
Support from Toyota
All models carry Toyota's 100,000km, three-year warranty, and capped price servicing.
So is it worth taking a look? By all means yes – visit the dealers, view the new model and test drive the variants. Our recommendation is to then head out into the used vehicle market and test drive the equivalent 7th generation Hilux variants, just to see how much you could save. Given the durability of these vehicles, it might just be worth your while to wait a couple of years and pick up an 8th generation model then.
Are you looking for finance to help you purchase a new or used Toyota HiLux?
1800Approved is one of Australia's fastest growing car and asset finance brokers. We specialise in car finance, equipment finance, plus insurance and warranty services, and have previously arranged deals from AU$10k to AU$5m. 1800Approved services clients across Australia, working with over 30 independent lenders to find the best deal.
We can also help with sourcing your new and used car warranty, and by sourcing vehicles and equipment through our Drive Wholesale arm.
To learn more about how we can help you, call us today on 1800 277 768.