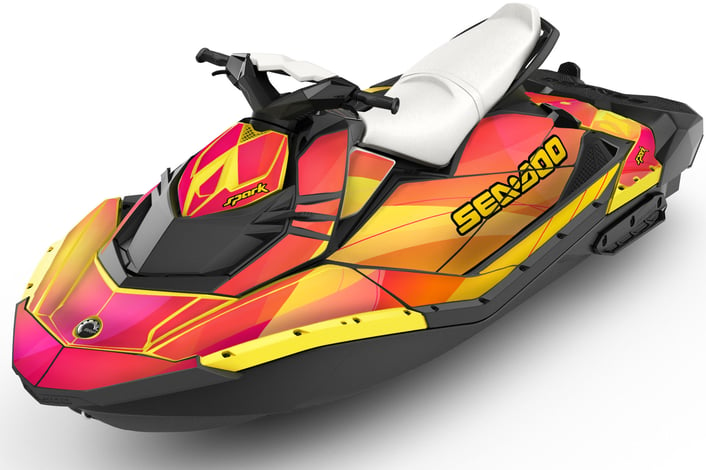 The innovative, low-cost Spark has proven to be a qualified success.
The Sea-Doo SPARK is one of the most affordable watercraft on the market and makes your family's dream of great days on the water possible right now. It is playful, easy-to-ride and easy to tow with a small car.
How do Sea-Doo produce it at the price ? The answer is clear the first time you take in the Spark's matte-finish hull.
Rather than shiny fiberglass, both the hull and deck are made from plastic, specifically a mix of polypropylene with long-strand glass fibers. The material, dubbed Polytec, is cheaper to produce than fiberglass, and lighter to boot. The molding process results in that sexy matte finish. They look great, in and out of the water !
Sea-Doo make further use of the matte finish with an an array of exciting colour choices.
The Spark certainly stands out in a Sea-Doo showroom. Other skis can appear to be giant, hulking expensive things. The Spark is petite and friendly-looking; you can lift the front up with one hand, easily. The colour schemes and matte finish help it appear more affordable to the potential new owner also.
Its performance backs that up too. It is fun, nimble and agile with a power-to-weight ratio that makes it 'feel' quicker that many larger jetskis on the market.
All in all, the Sea-Doo Spark is a great and affordable lead-in product for new jet ski owners and those who are looking for a high-performance fun weekend personal watercraft, coming in under $10 000 including a trailer and all on-road costs.
It's not only a blast to drive but won't cost the earth to run and due to its size and weight, can be towed by a standard small vehicle. 
Jet Skis can be financed quickly and easily through 1800Approved. If you haven't found the craft you have been looking, we can also help source your personal water craft. 1800Approved is an award winning finance broker, Australia's Broker of the Year for 2016 ! We have helped tens of thousands own their dream jetski. Please call us today on 1800 277 768.