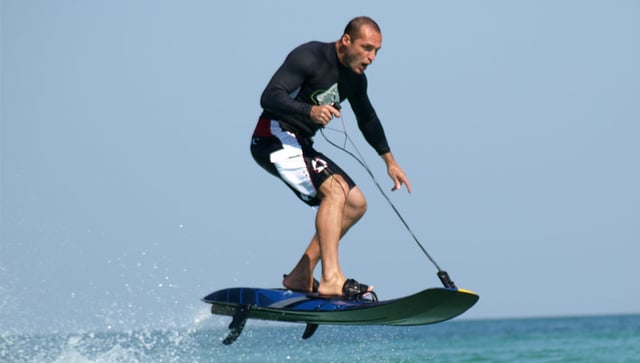 Want to spend more time on the waves and less time paddling and ducking under waves? Make that a reality with the Jetsurf.
It's not quite a jet ski, not quite a surfboard. It's something in between.
The Jetsurf, constructed in Czech Republic, has hit Australian shores.
A product born from the imagination of F1 and MotoGP engineer Martin Sula, the Jetsurf is somewhere between a jet ski and a surf board. You can run after waves at high speed and then ride it in like a regular surfboard. When the surf is flat, you can ride it like a stand-up paddle board.
The Jetsurf is of custom-designed, carbon fibre and Kevlar construction. It's powered by a two stroke 86cc engine and snapping along at up to 70 km/h at full throttle.
The rider benefits from an automatic electronic control unit, an auto start function and smooth continuous running in the water. The rider handles an electronic leash that serves as both a throttle and emergency kill cord.
Three Lithium Ferron batteries provide power and a state-of-the-art patented exhaust system ensures there's minimal noise output. Its green credentials are impressive – top speed emissions are a mere 210g of CO2 p/h, making it environmentally-compliant.
The total weight of board and engine is a deceptively light 15 kg. Its weight and size means you can take it on flights as personal luggage, as you would a regular surfboard. Depending on model , a new jetsurf retails in the $10k-17k range. 1800Approved can assist with finance, while helping you find the best prices and options in your area.
------
1800Approved is an award winning finance broker - Australia's Broker of the Year for 2016 !
We have helped tens of thousands own their dream car, boat, holiday, jetski or caravan and/or finance business equipment.
Let us help you finance your dream car, motorcycle or Jetsurf today.
Call us at 1800 277 768. Obligation-free.