New models set to boost Ford sales as second anniversary of factory closure nears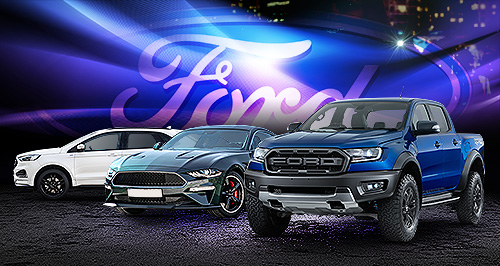 FORD Australia's recently appointed president and CEO Kay Hart says a fully refreshed model line-up will help the Blue Oval brand claw back sales it has lost this year as the company continues to rebuild its position in the market following its exit from local manufacturing in 2016.
Next month will mark two years since Ford closed its Australian manufacturing operations and began its transition to a sales and marketing business – with a big R&D centre also intact – and while Ms Hart praised the efforts of the company during the transition, she said it clearly had an impact on Ford's brand image.
"Yes, I would say there definitely has been (an impact)," Ms Hart said in an interview with GoAuto at the Ford Driving Skills for Life program launch in Sydney last week.
"It was a very emotional thing obviously for everyone at Ford, for the communities that we live and work in, so it was a very emotional time.
"I think we just continue to reiterate our commitment to Australia. Commitment by bringing in great new products and investing in the market, the investment the dealers are making in their local communities and in the facilities and the experience and the brand.
"So we continue to demonstrate our commitment through our investments – through things like product development and the great work they do in terms of designing vehicles here for right around the world."
Ford's popular Australian-developed Ranger ute and the Mustang sportscar – the latter a surrogate of sorts for the previous locally built XR Falcons – played a major part in limiting the Blue Oval's post-manufacturing downturn to just 3.8 per cent last year.
This year, however, overall sales have fallen 10.7 per cent to the end of August, compared to the same period last year.
The deeper decline is largely due to Mustang taking a 37.4 per cent hit – partly the result of a mid-year model changeover – while Ranger 4x2 sales have fallen 9.2 per cent and core passenger cars have experienced double-digit downturns, most notably Focus (-14.9%) and Fiesta (-55.9%), both of which are in runout.
Ford says it is close to running out of stock of the Fiesta, with the new-generation version lobbing next year in sporty ST guise only.
Ms Hart was reluctant to nominate a 2018 year-end sales target, but predicted individual growth from the updated model lines.
"I couldn't tell you exact numbers right now, but we are looking forward to the new models providing some growth in their respective segments," she said.
"I think we will definitely see a pick up in the new-model activity, and the important thing for us has really been the mix of business and the focus on where we are selling.
"So the retail businesses are really important for us and are the focus this year. I think the models with the new activity, we will see a jump by model."
Ford has this year launched facelifts for Mustang and the Everest large SUV. It has also introduced the Ranger Raptor performance flagship and, earlier this month, a new ST-Line version of the Escape mid-size SUV.
Before the year is out, the company will launch the new-generation Focus small hatch and wagon, while the model year 2019 update for the Ranger lobs in October – around the same time as the limited-edition Mustang Bullitt.
Another key launch will be the Canadian-built Endura, which is a five-seat diesel-powered large SUV sold globally as the Edge.
It will be one of few monocoque large SUVs to be offered solely with five seats, the others being the Jeep Grand Cherokee and the Subaru Outback.
Ms Hart denied there was a gap in Ford's line-up for a Toyota Kluger and Mazda CX-9 rival to sit alongside the Endura and the more off-road-focused Everest.
"We have a great line-up, especially with the refresh and new actions coming through at the end of this year," she said.
"We have a great SUV line-up and the addition of Endura to that at the end of this year sort of will make that line-up complete if you like in terms of what we offer across that range, and just another great option for customers coming in and looking for an SUV.
"We have SUVs, trucks, cars to cater for a very wide range of customers."
That said, Ms Hard did admit that if the next-generation Explorer seven-seat large SUV – due on sale in the US next year – was offered in right-hand-drive configuration, Ford Australia would have its hand up.
"It would be great if it was in right-hand drive. It is a beautiful vehicle. But obviously not at this stage," she said.
While sales of the Escape and Everest have grown this year by 1.9 and 20 per cent respectively, the EcoSport crossover – which had a mid-life update in December last year – is down by 22.7 per cent year-on-year in a segment that is up by close to 25 per cent.
Ms Hart acknowledged the challenges the EcoSport faced, saying there was "a lot of competition in the segment" and that it was unlikely people looking for a Fiesta would instead pick an EcoSport when stock of the light hatch dries up.
"They are very different customers in terms of what they are really looking for," she said. "It may be an option that people look for if they were looking for a small car, to look at the small SUV, but I do think they are slightly different buyers."
---