Deniliquin Ute Muster Festival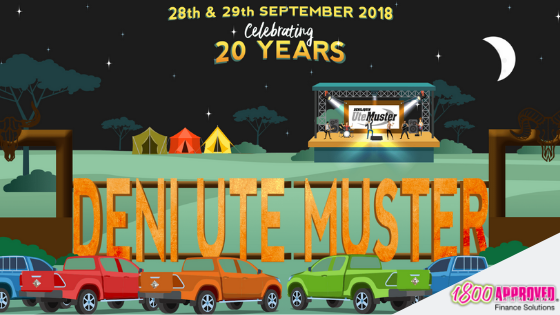 With Deniliquin's agricultural and farming roots and the magnificent Riverina plains nearby, the UTE and the PLAINS were chosen as themes for a Festival for people of all ages. The Deni Play on the Plains Festival was conceived in October 1999 – a festival to be held on the flattest, natural, open plains on earth, with "Ute culture" being an intrinsic part of Deniliquin. It was unanimous that it would play a major part of the festival and hence the Deni Ute Muster burst into the national psyche.
Deniliquin lay claim to the title of Ute Capital of the World after the very first event, and erected a Ute on the Pole in celebration of the Festival's success. The next year a fabulous vintage Ute was stunningly mosaicked. Both these attractions, along with the famous Deni Ute Muster Entrance gates, are a must for "selfie" loving tourists.
Today, the event annually attracts approx. 20,000 people of all ages to celebrate all things laconically Australian and the icon of the Ute. The Festival has amazing community support with more than 1,000 volunteers mobilising each year to help put on the event; and after each event, close to $100,000 is donated back to community groups.
The Festival produces an iconic diamond sticker to celebrate each event.
The sticker represents Utes travelling to Deniliquin, a limited number of stickers are printed each year making them collector's items.
These diamond stickers can only be put on Utes – they must not be stuck to sedans, trailers, vans, or motorhomes! And they are only available to Festival patrons when they drive their Ute through the gates.
The sticker changes colour each year. The original yellow stickers can still be seen on vehicles around Australia despite being 19 years old!
1800Approved, the Ausloans finance arm, can get you preapproved today so you can shop for your next Ute with the power of cash! Don't let finance stop your dreams!
We have also partnered with Qantas to get ABN holders free flights*. Whether you're after a badass modified used Ute or a brand new one, we will get a custom finance solution just for you. We compare 40+ lenders with just one click to make sure you get the best deals in Australia. Faster and easier than the banks, let us do the hard yards for you. Call us on 1800 277 768 or apply online now!
Our program provides entertainment for patrons of all ages including over 24 hours of live music during the event, free children's activities, carnival rides, Ute driving competitions, Bull Ride spectacular and interactive competitions.
New to the Deni Ute Muster in 2018, Laser Tag!!
Head to the combat zone for a game with your mates or jump in a team and have a go. All ages welcome.
You've seen the Muster from the ground, but have you ever wondered what the Deni Ute Muster site looks like from above? Take a flight with the Geelong Helicopter crew and try and spot your camp site from the sky.
Get your phone ready to take a snap of the bouncing kangaroos as they hop all over site.
We are lucky enough to have Brandon Kroon returning alongside Angie Polglaze to impress with their amazing chainsaw skills creating wooden artworks. We can't wait to see what masterpieces they produce this year! You will be able to purchase their wooden creations to take home over the weekend.
The Isuzu UTE Iron Summit is genuinely the world's steepest 4wd ramp at 45 degrees (100% gradient). Adventurous visitors have the opportunity to see the world from a different angle by taking a
Adults: $270 + postage
Juniors: $135 + postage
All children under 13 will be admitted free with an adult ticket purchase.
Buy Tickets Here!
Opening Hours: 6am - 9pm
Address: 62 – 64 Hardinge Street, Deniliquin
General Camping: Click Here
Main Stage Schedule: Click Here
Sitemap: Click Here
Bus Timetable: Click Here
Event Info: Click Here
FAQS: Click Here
Facebook Page: Click Here
**all information mentioned above came from the events website at www.deniutemuster.com.au