Did you know that more and more individuals and businesses now prefer alternative finance? According to a data analysis performed by Equifax, demand for alternative finance increased 130% in H2 2017, compared with the same period in 2016.

Alternative finance is classified by Equifax as a new lending category that leverage online technology and various data sources to make pricing and loan approval decisions like what we do here at 1800Approved.

The increase in demand is not surprising since consumers and businesses now realise the benefits and convenience of using alternative finance. Imagine having a finance expert doing all the heavy lifting while you wait at the comfort of your own home or while you do "business as usual" at work?

Alternative finance providers saves you time, money, and effort. What usually takes days or even weeks to accomplish now only takes hours because of the technology and partnerships being utilised.

Consumers

According to the study, millenials account to 62% of the inquiries in H2 2017 while 12% belongs to the Gen X-ers. This shows how comfortable millenials are in using technology in their transactions but the older generations are following suit. Further growth in the industry is expected as consumers and businesses get more familiar with alternative finance.

Increase in consumers Demand per State

WA - +150%
VIC - +143%
QLD - +139%
NSW - +128%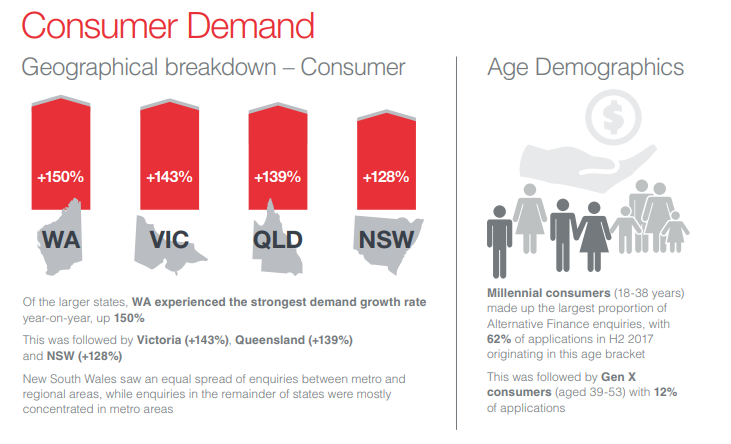 Commercial

SMEs are also making the transition from traditional finance to alterative fnance. SMEs account to 98.8% of commercial inquiries in 2017.

Increase in commercial demand per state

WA - +70%
VIC - +70%
NSW - +67%
QLD - +66%

The study also shows that businesses between 1-19 years old are more likely to utilize alternative finance than those that have been in business for more than 20 years. This is probably because of the relationships built between the business and the traditional lender.

1-19 years in business - +92.5%
20 years and older - +7.1%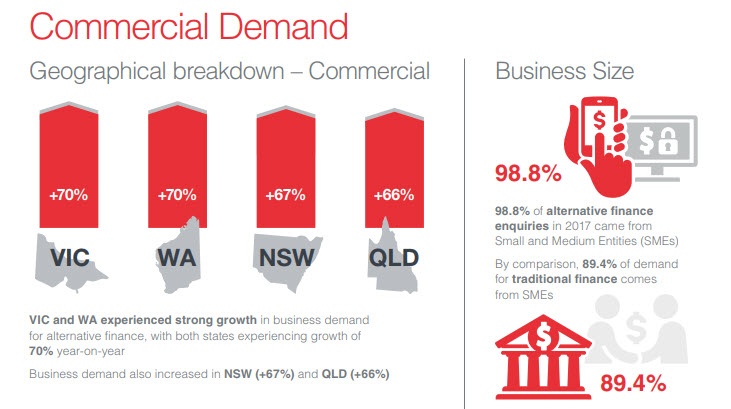 The demand for alternative finance is expected to grow year after year as well as the demand for more efficient services from providers like 1800Approved Finance Solutions.

Efficiency and better service has become the driving force of our business. We've seen the growth in demand and we are eager to match it with better technology and better service.
For all your financing needs contact us at 1800277768 or fill out the form.
*All statistics quoted are based on Equifax data analysis completed in March 2018