Apply for finance with Ausloans and go into the draw to win a new motorbike at the National Diesel Dirt & Turf Expo!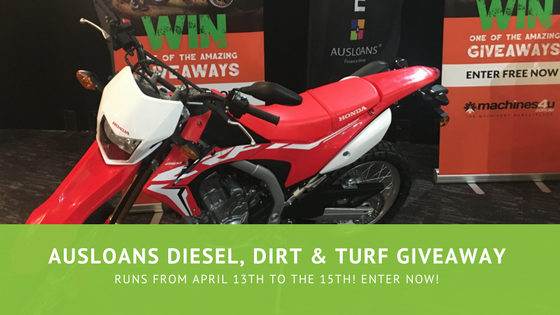 In the spirit of giving, and being our first time exhibiting at the National Diesel Dirt & Turf Expo, we will be giving awaya brand new Honda CRF Motocross bike (the CRF 250LAH)! We're also adding in an accessories pack so you're all set to get riding. One lucky winner will be drawn on April 15th at the expo in 123 Mulgoa Rd, Penrith NSW 2750. Be sure to enter now for your chance to win! Entry for this prize is FREE.
Ausloans team of finance specialists focus on working for you, not the banks. Bringing a personal and effective approach to everything we work on. We provide solutions for any financial needs in the industry, whether it be financing a new machine or vehicle.
Here's what we bring to the table:
Tailored Solutions: we work with your business in designing finance solutions to suit your specific requirements.
Convenience: we work on your behalf, doing the hard yards and sorting through all the excruciating finance paperwork and processes.
Service: we work with you and key stakeholders as though they have direct interest in your business to ensure products and solutions are in the best interest of the business.
Confidence: have the confidence in the professionalism of the brokers and consultants, backed by a multi-award winning finance brokerage.
Experience: work with a group of individuals who offer decades of not only finance consulting experience, but also understanding the challenges of running their own successful business.
---
You may also apply at the expo and get pre-approved. Applications at the expo are also eligible for the motorbike giveaway. It's a family-friendly show with loads of entertainment for everyone. Keep the kids occupied while mum and dad look for that deal that they have been waiting for.
See you there!