Australian farmers today face a considerable number of challenges in an industry that's evolving at an unprecedented speed. Farmers are being presented with more options for capital investment than ever before, and investment is required to ensure longer term business survival in a rapidly changing environment.
There are numerous causes for the present situation. The effects of drought and salinity have been felt for many years, along with clearance, fertiliser use and long distance transport issues. At the same time, the development of new equipment technology has accelerated, with agriculture becoming more mechanised and increasingly reliant on technologies. There are also market effects, including greater overseas competition, price volatility, and fluctuations in the dollar's value.
This has primarily affected the cattle farming and grain export industries, now the backbone of the Australian agriculture. For many small to mid-sized businesses, including dairy, fruit, nut and sugar cane production in coastal regions, the domestic market remains the main source of income, leading to narrower profit margins and more critical cash flow.
Farmers running the smaller businesses need to respond as quickly to change as their larger counterparts if they are to retain a competitive edge. By acquiring finance to buy farming capital, farmers can rapidly improving their business's position for the future by benefitting production while preserving the working capital.
This means taking advantage of technical advances to achieve greater efficiency, by investing in, replacing or upgrading machinery and equipment. This might include:
Tractors, including compact, sub-compact, high crop, standard, track and crop tractors, etc.
Trucks, including livestock and tippers, trailers, and utes.
Earth-moving vehicles.
Ploughing equipment.
Irrigation equipment.
Dairy equipment.
Harvesters, tillage, spraying and spreading equipment.
Grading, solar and other types of equipment.
However, making such purchases can be beyond the scope of many smaller businesses, particularly those in their earlier growth stages. These businesses often find it hardest to gain finance options from the large financial institutions, which traditionally favour the 'safe bets' of the largest and most established agricultural businesses.
The good news is that with the opening up of the financial markets has enabled many alternative sources of finance to develop. In many instances, these provide greater flexibility and choice than many of the more long-standing agriculture financers.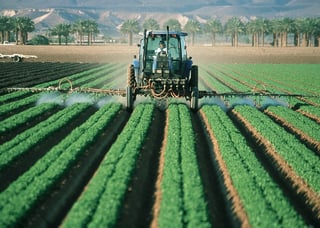 Are you looking for competitive and tax effective farm equipment solutions? 1800Approved is one of Australia's fastest growing vehicle, equipment and machinery finance brokers. We specialise in truck, ute and car finance, equipment finance, plus insurance and warranty services, and have previously arranged deals from AU$10k to AU$5m.
1800Approved services agricultural clients across Australia, working with over 30 independent lenders to find the best deal.
We can also help with sourcing your new and used vehicle warranty, and by sourcing vehicles and equipment through our wholesale arm.
To learn more about how we can help you, call us today on 1800 277 768.