Commercial vehicles take on different roles for different businesses. Deciding which vehicle or vehicles you should buy means analysing your commercial needs and figuring out how to get the very best returns for your business investment.

The right vehicle isn't just transport for getting around. It can be both a mobile office and a tool for the service itself. It is also, whether you want it to be or not, part of your visible marketing effort. Many vehicles are all of these things, but ultimately, you have to select the vehicle that will increase your business efficiency.
This means completing some business planning, with the vehicle(s) as their own cost centre. With costs usually spread over several years, equipment finance or car finance for the initial purchase needs to be part of your business planning.
Trucks
Businesses such as builders, removalists or wholesalers often need small rigid trucks. This presents more limited options, with running costs of registration, insurance, driver training and fuel being a major concern. If you have to buy a truck, it's important to know about incentives such fuel efficiency credits.
Vans
These are more expensive to buy than utes, and aren't as popular in Australia as overseas. However, they offer many advantages to the business. Insurance may be lower, especially where theft of contents is concerned. Many are good on fuel economy, while being more stable to drive. With the cabin over the engine, more storage space is available, and this is weather protected. Also, the side panels are great for advertising. Diesel vans will be more expensive to purchase, but depreciate slower than petrol vehicles.
Utes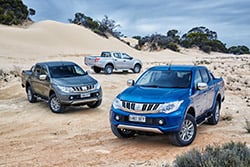 Crew/dual, single or space/king cab, flat tray or tub tray - whatever you call them, utes continue to be the first choice for Australian small businesses. The ute you choose can make a big difference to the bottom line. 4x4 outsell 4x2 utes by nearly four to one, but a 4x2 is more efficient if your business routes are mostly on tarmac. 4x2s are also cheaper to buy and to run, due to the absence of the heavy, complex 4x4 drivetrain. They handle a little better and are easier on brake pads and tyres less quickly. Unleaded petrol utes are more environmentally friendly than diesel, but engine life is shorter and a V6 engine will be thirsty.
Cars
In selecting a car, consider length and nature of trips, usual number of passengers, boot or load space required, and budget available for maintenance costs. Can you afford to buy new or used? New light motor vehicles, including cars and 4x4s, have to display a Fuel Consumption Label. All this and resale costs have to be part of your decision.
Whichever you type of vehicle you choose, it's important to align purchase and running costs with the value of the vehicle and its benefit to the business. Many companies use equipment finance or car finance the purchase, spreading the investment and improving the cashflow. This also helps the business to prepare for depreciation, while improving tax efficiency and giving your business room to thrive.
Are you looking for finance to help you purchase a new vehicle? 1800Approved is one of Australia's fastest growing car and asset finance brokers. We specialise in car finance, equipment finance, plus insurance and warranty services, and have previously arranged deals from AU$10k to AU$5m. 1800Approved services clients across Australia, working with over 30 independent lenders to find the best deal.
We can also help with sourcing your new and used car warranty, and by sourcing vehicles and equipment through our Drive Wholesale arm.
To learn more about how we can help you, call us today on 1800 277 768.
Images: NRMA on Flickr