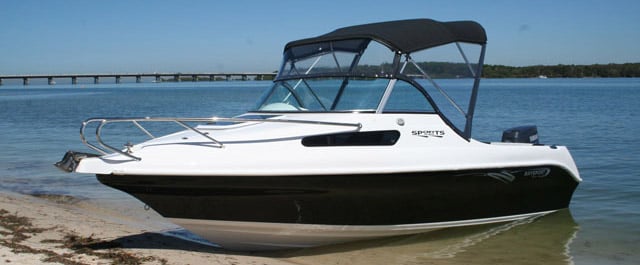 What's your ideal Aussie summer weekend? Living the dream may be hitching the boat behind the 4wd and heading to the marina for a fishing trip, having some laughs skiing or tubing, or taking a leisurely family cruise along the shoreline.
If so, you're lucky, because there's an Australian boat manufacturer that specialises in versatile, family-friendly fishing boats. Sunshine Coast based Baysport, which used to be called Freedom Boats, has built a 30-year reputation for producing affordable boats that truly deliver the goods.
The most prolific model to date is the 585 Sport, which is an ideal family fishing cabin boat that can be towed behind most 6-cylinder vehicles. At 5.85m long, the 585 has enough room for a reasonably large cockpit and deck space for 3 or 4 people. The forward cabin and helm are roomy, and the designers have found plenty of out-of-the-way space for storage. And then there's the adult-sized bunks for overnight excursions…
Despite its simplicity, the 585 Sport corners easily and has a sporting turn of speed. With a tunnel hull design, it has soft handling and tracks well in heavier water, while giving a smooth, dry ride. For family fishing expeditions, it offers the right balance of comfort, practicality and economy.
In 2015, Baysport added to the range the new 545 model, featuring a new hull design for superior performance and handling at speed, and greater stability at rest. This smaller boat offers the same versatility as the longer models, but with an advanced pod design that can be powered with an 80hp outboard. Lightweight and easy to store, it can be towed on a single axle trailer.
With enduring value, superior features, and modern designs, the wallet friendly purchase cost of around $40K makes Baysport boats an ideal choice for first or second boats.
1800Approved can assist with boat loan while helping you find the best purchase rates and options in the region. We work with over 30 independent lenders – a major advantage in finding the best deals, lowest interest rates and a greater chance of being approved for a loan than with most banks or direct financial institutions.
Call us today on 1800 277 768