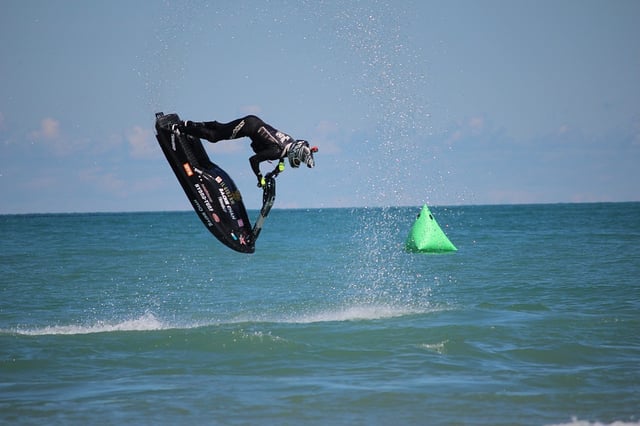 If you're in the market for used jet skis, then you will be interested in an anti-theft initiative that has now reached Australian shores. The Worldwide Stolen PWC Database has been running successfully in Europe for several years, providing a central register of stolen PWCs. Now providing a global service, www.stolenpwcdatabase.com has linked to insurers and trade associations to include Australian data records, and a partnership with the NICB (National Insurance Crime Bureau) is also in development.
How does it work? If your jet ski has been stolen, you can list it on the database, after police and marine authorities have been informed. Good news is that you can register it months or even years after it was stolen. The stolen PWC will quickly appear on the database, sometimes within minutes, on any day of the year. Its details will then swiftly pass into the database owner's Jet Ski network.
If you're buying a used jet ski, you can check the database for details of any PWC you're considering. The fee for this service is AU$ 19.95 per search, which covers the effort required for the ongoing data maintenance program, which ensures that all data is rechecked and updated constantly.
Meanwhile, here are our top six checks you should complete before committing to buy any used jet ski.
1. Note the Hull Identification number (HIN) or Craft Identification Number (CIN), and engine number, to check later. Always check that the plate looks the correct age for the craft. You can also ask the seller for any official documents, such as insurance certificates, that show the numbers.
2. Try to view the PWC at the seller's home address, before arranging to meet at the water for a test ride. Genuine sellers are more likely to agree to this, having nothing to hide.
3. Check the HIN/CIN and engine numbers with the Worldwide Stolen PWC Database.
4. Engage another service to run a check on the HIN or CIN. Bear in mind that results may vary, due to previous absence of a centralised database. Also, because many jet skis are not insured, there are few formal details of thefts in circulation.
5. Write out a sale agreement, giving details such as who you and the seller are, and where you both live (check their identity and address against a driver's licence or other ID), what exactly is being sold (including the HIN/CINs), and how much for. Include a statement confirming that the PWC belongs to the seller and that they have full rights to sell it. This agreement will provide you with more protection should the PWC later turn out to be stolen.
6. Ultimately, trust your instincts. Stolen PWCs will often be solder cheaper than legitimate ones, as the sellers are keen to move them on quickly. If the price seems unrealistically low, be suspicious. Also back out if the seller resents your questions, or if the receipts and paperwork don't look right.
To learn more about the services offered to prospective buyers, visit www.stolenpwcdatabase.com.
Pre-approved Jet Ski Finance from 1800Approved will assist you in finding the best purchase rates and options in the region. We can also assist you with a list of first rate dealers or help you source your new or used jet ski today through our extensive wholesale network.
------
1800Approved is an award winning finance broker - Australia's Broker of the Year for 2016 !
We have helped tens of thousands own their dream car, boat jetski or caravan and/or finance business equipment.
Let us help you finance your dream jet ski today. Call us at 1800 277 768. Obligation-free.