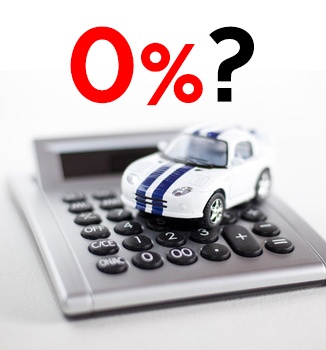 There's a well-known saying that when something looks too good to be true, it usually is. A 0% car finance offer may seem mouth-wateringly tempting, but can leave you with a bitter aftertaste.

Think about it. If the Reserve Bank of Australia has set interest rates above zero and the major banks have followed suit, it's unlikely that any car finance provider can afford not to do the same – unless they are making the difference back.

Long story short: if you get hooked in by a 0% interest car finance deal, you will usually find yourself on the wrong end of hidden fees and charges.

Most 0% interest deals are offered by dealerships to attract you into the showroom. But don't be fooled by the hype. You may not be paying the monthly interest, but they are, and they need to recoup it somehow.

That's why the difference is usually factored into the sales price of the car instead. It will be high and you'll find there's not much negotiation room on price.

Then there's the number and size of your loan repayments – the dealer need to meet monthly, quarterly and annual sales targets, so the arrangement will be made to suit them, not you.

It doesn't stop there. You'll probably have to have the car serviced with the dealership, which is going to cost you more than if you shop around. Then there's all the extras – the more you're sold on the day, the more you'll pay in total.

How much difference has that 0% rate made to your car finance deal now?
Are you looking for finance to help you purchase a new vehicle?

1800Approved is one of Australia's fastest growing car and asset finance brokers. We specialise in car finance, equipment finance, plus insurance and warranty services, and have previously arranged deals from AU$10k to AU$5m.

1800Approved services clients accross Australia, working with over 30 independent lenders to find the best deal.

We can also help with sourcing your new and used car warranty, and by sourcing vehicles and equipment through our Drive Wholesale arm.

To learn more about how we can help you, call us today at 1800 277 768